School and Parents: Together We Make A Family
Rita Singh is our Amazing Teacher this week. She is the recipient of the prestigious CBSE Teachers Award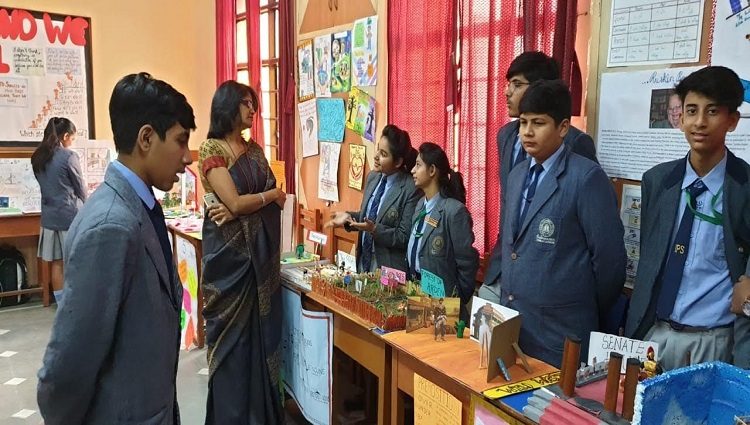 Rita Singh, Director, Indirapuram Group of Institutions, is a well-known name in the field of education. She left her corporate job because she found the inquisitiveness among children intoxicating… A decision she has never regretted. Read below to know more about her…
---
One thing that comes to mind when you think of teaching profession
Lovely. I am going to shape the world.
Quote that inspires you
"Be the change."
These are just three words, but they are applicable everywhere – in my kitchen, at my office, or me as a citizen. Just put these three words in any situation and it will guide you to do the right thing.
Motivation behind taking up this profession
I started my career in the corporate sector. I was an IT executive. That was a time when computer science was not taught the way it is done today. In fact, it was outsourced by schools along with the hardware management of computers. In 1989, the IT firm for which I was working got a contract from schools for teaching and hardware management. I was sent to one of those schools. I had barely spent some months there when I realised that teaching is a beautiful profession. When you are in an office, it's a kind of dry system, working on computers and hardly any interaction with each other. But in schools, it was different. Inquisitive children, full of questions. Every time you helped them solve a problem, you could see a sparkle in their eyes. There were many aha moments everyday. It was beautiful.
I had my first baby during this time, so I took a sabbatical from my job. But when I rejoined, I rejoined as a teacher.
Your biggest achievement
I have mentored many people – teachers turning into principals, and students turning into happy and productive citizens.
Life post-award (she won the prestigious CBSE Teachers Award in 2019)
You feel more responsible now because you realise that people are watching you. Earlier, you used to do things only out of passion. While you still love your work, the focus and dedication seems much deeper now. Also, the award adds a little more credibility to your profile because there's an endorsement by a government body.
Experience of running schools in these covid times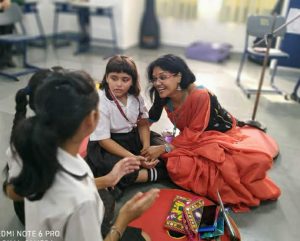 It has been full of challenges.
First challenge was technology. I wouldn't say we were caught off-guard. We were already planning to run online classes. We were working towards getting familiarised with online tools, etc., but only as a remedial session for students who were academically weaker or falling behind.
We did have orientation session with teachers as not all of them were well-versed with technology. For online classes to succeed, we needed partnership with parents as well. Hence, we had orientation session with parents. It, however, took us just two weeks to get on with it. After that, there was no looking back. Now, our teachers are not just teaching online but also using various tools like Flipgrid, augumented reality etc. I feel there has been a whole lot of learning for teachers as well, and wonderful, interesting and different kind of teaching has happened in classrooms. I hope to see this kind of learning even when we are back in schools. I would expect my teachers to continue interesting aspects of today even in future.
Also, for teachers, learning outcome was very important. Since they could not see the body language of their students, it was challenging for them to figure out whether a child has understood the topic or not. Teachers were floundering, they were feeling helpless. They wanted to give their best so that their learning or teaching reaches every child.  So creativity, pedagogy took a big turn.
Corona time: An opportunity for school and parents to strengthen their bond
I think all those schools which shared strong bonds with parents did not face the tussle over fee issue. That's because parents believed in the school, and whatever policies school brought in. Parents usually deal with a class teacher, subject teachers and the principal. If parents trust you (school), then they would believe you as they know that whatever you do is for the benefit of their child. This belief comes when both of them know that they are working towards bringing a productive citizen in the world. So, all those schools which already shared such belief with parents didn't face many problems.
Also, the situation was such that fee paying was not in parents' hands. Even those parents who were always regular with their fees, did falter this time because of genuine problems like pay cuts, job loss, business shut down, etc. Hence, we made it a point to listen to each case individually. We have also offered parents an installment option for paying fee. There is absolutely no forcing anyone. All students are attending schools, appearing for exams, and participating in whatever school has to offer. However, reminding them to pay the fee is important because our salaries are getting delayed. It's a very difficult situation. You can't blame anyone. I feel wherever there has been heart and trust, problems have not come in. It's like any crisis that a family faces. If the family members share strong bond, relations get strengthened during crisis. But if the relations are soured, then they would only get further weakened.
Challenges of NEP
I think the policy is beautiful. It not only talks about what should be done, but also how it will be done. So, this is something nice. This is the right planning. We are successful here.
At the grassroot/ school level, teachers are motivated and principals are happy. Everybody is euphoric and looking forward. They are very happy because they are at the helm when India is at the paradigm shift so far as the education scenario is concerned.
I don't see any challenges either at the grassroot or the policy level. The challenge is somewhere in between, at the implementation stage.
You have got to chill and not take yourself very seriously. We are all human beings. It is not possible to know everything or make no mistakes. So, if someone (even a student) corrects you, say thank you and let it pass
Are you planning to reopen schools anytime soon?
We have already sent consent form to parents of students of class 9-12 for their approval. We are not planning to formally open our schools. But teachers would be available for physical interaction in the school premises on certain days. At a time, only six students would come to one class, that is, one teacher and six students. No more than 36 students would be allowed in a school at one time. These would be query solving sessions that we are planning. But we would start them only when the government permits us to.
Learning that you would like to share with us
You have got to chill and not take yourself very seriously. We are all human beings, we may not know everything. There are times when teachers come prepared with a lesson, and there may be a situation where he/ she falters. I have faced many situations in life where students have corrected me. I would say, don't put yourself on the pedestrian. It is not possible to know everything or make no mistakes. So, if someone (even a student) corrects you, say thank you and let it pass. If you do not have an answer to any of their questions, say you will get back to them tomorrow. Show yourself as a human being, show yourself as a person who is there for the love of it, and to learn as well.
What next?
We have joined hands with Navjyoti India Foundation. Together with them, we (our team at Indirapuram Group of Institutions) are rewriting our entire curriculum in Hindi language.
Secondly, we are working towards creating awareness about SDGs in our school. Although the awareness is there, and we do organise activities and campaigns regularly, but now, we have chosen 7 out of 17 SDGs and we will focus on them in coming years. For the next two years, we will concentrate only on creating awareness about them. The idea being that every student and parent (along with their family members and friends) of our school should know about SDGs and also create awareness about them. Then, we intend to get into advocacy mode. That is, take the example of sanitation. Our school in Ghaziabad, UP, will make a plan on waste management in the city and send a proposal about the same to the administration. This is our plan for future.
READ ABOUT OTHER AMAZING TEACHERS HERE
Do you feel strongly about something? Have a story to share? Write to us at info@thepeepertimes.com or connect with us on Facebook or Twitter