Nowadays, the biggest challenge for teachers is to ensure their class is interesting and appealing for students. For this, they are continuously innovating their teaching techniques. In this article, we bring you some innovations from teachers which have led to better understanding and high motivation between students and teachers.
1. Exit Ticket
Teachers use this method to evaluate the learning outcome of a class. Once a topic/lesson is taught by a teacher, he/she gives a feedback form (named Exit Form/ticket) to students. These tickets contain a few questions related to the subject taught in the class. Their answers help teachers evaluate whether students have understood the topic or not. If the majority of answers are incorrect, the teacher re-teaches the concept/topic.
2. Student as a Resource Person
There are times when schools do not have adequate teachers or staff members to carry out all its activities. In that case, students are encouraged to enhance their talent and become a resource for the school. Be it art and craft or dancing or singing, students contribute to these activities, and are also encouraged to conduct a workshop for other students.
The idea behind is give these students a platform to showcase their talent. In fact, students are provided regular training by teachers to polish their skills. It's only once students acquire required training and guidance, they become a resource person.
3. Adopt a Friend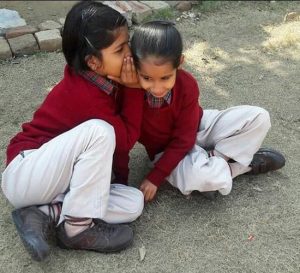 This method recognises the fact that not all children are same. Some may be good in studies, some in sports and some in arts. Here, students are taught to benefit from each other's strengths.
Each student is encouraged to adopt a friend whom he/she will help in studies/games/art (depending on the strengths/weaknesses of students). In this way, every student adopts a friend and also gets adopted by another friend. They then help each other during free periods. This not only helps children realise their strengths but also builds their confidence and communication abilities.
4. Multi-subject Learning Strips
This method is mainly useful for primary class students. Teachers make learning strips, subject or topic-wise. These strips contain one word answers to questions or may describe a particular topic in pictures.
These strips are then pasted or hanged at different places so that students can look at them frequently. It can be doors, windows, near the blackboard or anything. The idea is to promote the basic concept of 'Learning by Seeing.' Students enjoy learning in this creative fashion.
5. Mann ki Baat
This activity is meant to help students open up about their feelings, joys or sorrows and unburden themselves. The students feel relaxed and are able to concentrate better in class.
This activity is usually conducted by class teachers early in the morning. Half an hour in the morning is reserved for it. The teacher begins by sharing his/her 'mann ki baat.' It can be anything, even a poem. Students are then encouraged to talk about themselves, one by one. No one interrupts or judges the other person. Once everyone has spoken, the teacher and students then together decide the topic for the next day. The activity helps in building the bond between students and teachers and also among students.
READ ALSO: These teachers use games to teach their subjects
Benefits of these techniques: 
It helps in resolving real-life cases through group analysis, brainstorming and creative ideas.
Class becomes dynamic as every student participates in these activities.
Rote learning is discouraged and curiosity is encouraged.
Helps in building better teacher-student understanding.
Teachers using them:
Kesar Patel, Tagore Global School, Kurukshetra, Haryana
Mayanka Sharma, P. S. Chanepur Chhabilepur, Mainpuri, Uttar Pradesh
Kunda Jayawant, Nashik Corporation School No 18, Nashik, Maharashtra
Bharti Yadav, D.A.V. Nursery School, Outram Lines, Delhi
Blud Rodrigues, Ravindra Kelekar Dnyanmandir, South Goa, Goa
Source: Zero Investment Innovations For Education Initiatives (ZIIEI). It's a mass-scale teacher outreach initiative started by Sri Aurobindo Society as part of its nation-wide education transformation programme, Rupantar. Every year, the society publishes a handbook which showcases outstanding ideas (implemented by teachers in India) to improve quality of education at zero investment. These ideas or best practices act as an inspiration for other teachers in the country who replicate them in their schools. 
Do you feel strongly about something? Have a story to share? Write to us at info@thepeepertimes.com or connect with us on Facebook  or Twitter