The goal is to raise Rs 3,30,000 so that digital education of students suffering from cancer and coming from a poor financial background can be supported.
With this as their mission, Bengaluru based biking club, BrosONWheels, decided to raise funds during 'No-shave November'. As Sujith Kumar, founder of BrosOnWheels, mentions in his communication statement, "We are urging you to put down your razor for 30 days and donate your monthly salon/ hair maintenance expenses for a cause this November."
The club reached out to masses through crowdfunding and have, so far, raised more than Rs 2,70,000. "Initially, our target was to raise Rs 2 lakh, which we achieved in less than a fortnight. This has encouraged us to revise our target to Rs 3,30,000," said Kumar, adding, "There are still 10 more days left in this month. We are confident of meeting our target."
But how did this idea originate?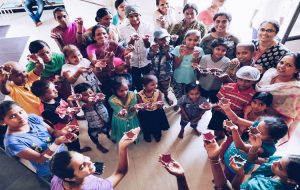 "I have been associated with Samiksha Foundation as a volunteer. Due to pandemic, the foundation is finding it hard to provide digital education to children as the latter do not have resources to study online," said Kumar.
Samiksha Foundation is a creative learning initiative for children with cancer and their caregivers. It provides educational, spiritual, and creative support to children while they undergo treatment for cancer and other life-limiting conditions.
"We were running learning centers in two hospitals in Bengaluru city. But once covid struck, we were unable to continue with this facility. We realised that we will have to leverage the technology to ensure continuation of education of our children," said Valli Narasimha, education and volunteer-intern coordinator, Samiksha Foundation.
The problem, however, was most of the students that the foundation caters to belong to the lower strata of the society who don't have much access to computers/ mobiles or internet, and hence cannot leverage tech for learning. This is why they decided to do something to ensure technology reaches the needy.
The money collected would be utilised for providing tablets (50), smartphones (12) and internet connection (1 year subscrption) to children. So far, more than 270 supporters (about 70% happen to be the bikers) have come forward to support the cause.
If you wish to make a contribution for the cause, click here
Do you feel strongly about something? Have a story to share? Write to us at info@thepeepertimes.com or connect with us on Facebook or Twitter