We Teachers Are Learners And Quick To Accept The Transition
Vitika Chadda is our Amazing Teacher this week. A former Mrs India, she is a strong believer of 'Fun based learning'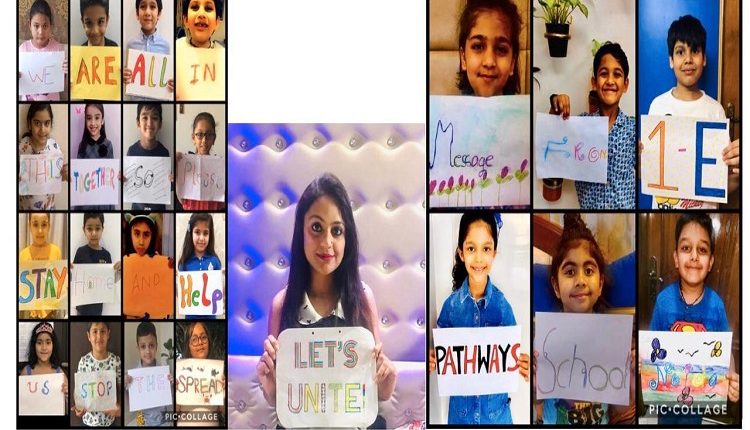 Currently an IB PYP Grade1 Tutor at Pathways School, Noida, Vitika Chadda wears many hats. She is a teacher, a painter, a writer, a dancer and a former Mrs India. But the role that is closest to her heart is that of a teacher. Read below to know why…
How would you describe yourself – a teacher or a painter or Mrs India or…?
Life is one. Don't waste any moment of your life. I strongly believe that there's nothing in the world that you can't do or achieve if you really wish to. Be it dancing, writing, teaching, reading or exploring new ways to do things to achieve my dreams like becoming Mrs India, I just follow my heart and go in that direction. But whatever role I am donning, I give it my 100%. When I am in my classroom, I am completely transformed into a teacher. You may find me sitting on ground playing with my kids, having paint on my hands or face. I will just be surrounded by children, working with them, finding new ways to pep them up and making them curious learners. The moment I want some 'me time,' it's just me. If I am dancing, I will dance like there's no tomorrow. Same is my approach towards other hobbies of mine –painting, reading or writing. When I went to Mrs India contest, the only thought that I had in mind was, 'Why not to try it? Just give yourself a chance and go ahead.'
So that's what Vitika is, just following her heart. But wherever she is going, she is giving her best. I strongly believe that whatever you do, you should give your 100% so that you can touch your own perfection in it.
How has life changed post winning the Mrs India pageant?  
It is like juggling between the two worlds. You are invited to a lot of events – as a jury member to contests or a consultant. Several NGOs also approach you. It is very hard to accept these invitations when you are a teacher in an IB school. This year, I could not accept the offer of being a judge at the contest. I believe I can only give my 100% to these activities when my school is closed, during summer break.
However, when it comes to NGOs, I am managing it simultaneously with my school responsibilities because I think I should do it. Here, I am making a difference. I teach children from needy families. Nowadays, I do it on skype because of covid. I also counsel them. This kind of work gives me more satisfaction. But yes, there is always a tussle.
Come out of your comfort zone. If you are not doing that, you will never be a risk taker and achieve what you want
Biggest achievement as a teacher
The love and affection that I get not only from my children but parents as well. Every year, I am blessed to have such fantastic community of learners comprising my little kids and their parents. They both love me a lot.
One thing that comes to mind when you think of teaching
Learning from each other. I am learning every day. I call myself a learner and not a teacher. That's why we, at Pathways, call ourselves facilitators. We are just facilitating students, not teaching them. We sit with them, explore with them, we question each other and research on new concepts. It's learning from each other.
I think that if a teacher comes to a class with a mindset that he/ she is going to teach while children should listen and follow a particular pattern, it leads to a closed-ended class and not open-ended. When the child doesn't have an authority to think in his/ her own way, then how can you expect him/ her to be an inventor? How will he be an inventor? But if you make your class an open-ended class, where every child is being given an opportunity to think and express freely, then there will be more scientists or inventors in our society – people who would think out-of-the-box rather than simply doing what the society wants them to do.
Quote that inspires you
"Life is a continuum."
This is my message to people who get disappointed with life and feel this is the end of the world… If one opportunity ends, look out for other chances. There are ample opportunities available in the market. The only thing you need to do is go ahead; think of a new way and just don't think about your past. Thinking about your past will always discourage you, but thinking about your future will make you futuristic. And when you think of your future, the only thing in your mind should be an action plan to achieve your goal.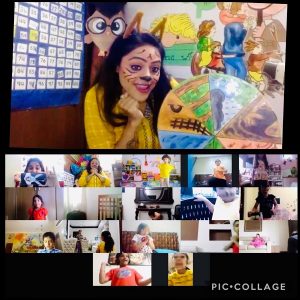 What's your teaching style?
I am living every new lesson that I conduct in my class. When I am conducting an experiment, I make sure that it has voice modulation, elements of curiosity and excitement for children. I don't want to conduct my class in a lecture style. Fun-based learning is what I always concentrate on.
How challenging was it to teach in this fashion when schools went online?
Very challenging. We had to relook at all our engagements. There was no way we could replicate the practices which we adopted in our school. But we teachers are learners and quick to accept the transition. We were really flexible to relook on each of our engagement and change it into a way that is useful for a child to comprehend, understand and then execute.
Interesting incident that you can think of in your teaching profession
We recently held an event (virtual) called 'Celebration of learning' in our school. One of my students (of class 1E) wanted to present her work at this event. I advised her to include the properties of water in her presentation. So when she showed me her presentation, I was surprised. The beautiful anecdote that she gave me was – 'Class 1E is like water. Just like the properties of water, it can mix or dissolve many things. If you put blue colour to it, it becomes blue. If you pour it into a glass, it will take the shape of a glass. Similarly, when 1E goes to a drama class, they do such amazing drama. When they go to a dance class, they do such amazing bhangra. And when they come to Ms Vitika for learning, they get such amazing thoughts.' I never thought of this connection. Who would have thought of such a thing – connecting properties of water to the students of class 1E.
What Next?
The bigger plan on my mind is always to add experience which will bring me out of my comfort zone. I want to meet teachers who have taught in the west. I want to sit with them and understand their teaching methodologies and curriculum. I want to understand what is it that they do differently which leads to innovative temperament among kids, thereby producing more scientists, entrepreneurs and out-of-the-box thinkers.
READ ABOUT OTHER AMAZING TEACHERS HERE
Do you feel strongly about something? Have a story to share? Write to us at info@thepeepertimes.com or connect with us on Facebook or Twitter