Do your students feel shy or uncomfortable to turn their cameras on?
If yes, ever wondered why?
There can be several reasons for it. Some, which come to my mind, are:
Some learners don't want to get captured/ recorded
They may be fearing that they will be cyberbullied
Feeling shy/ nervous in front of camera
Feeling uncomfortable asking questions in front of their classmates as it's not easy to find opportunities to ask questions in private
According to me, the reason why cameras play an important role in online teaching is because it helps teachers monitor whether learners are actively participating and engaged in their classroom or not. When their cameras are on, we (teachers) can see if they are engaged in lesson or doing other things that can distract their learning.
So, as teachers, how can we ensure that students keep their cameras on while the class is in-progress and not think of excuses for switching off their cameras?
SEL Strategies To Encourage Camera Use And Ensure Learners' Engagement
If you want to integrate social and emotional learning (SEL) strategies to prompt camera use among your students, there are some strategies which you can implement during your online sessions:
Build Trust and Be Empathetic: Give importance to building trust. Learners who feel safe and cared for by teacher and friends will be more comfortable in having their cameras on. If you don't like teaching to a blank screen, you can teach your learners to set up their school photo or bitmoji as their profile picture. Also, talk to them about your own experiences – occasions when you didn't feel like being on camera in a meeting or how you prepare yourself to turn on the camera even when you're not comfortable. If you're self-conscious about your looks or about multi-tasking while on camera, share it with them. It will build their trust, and gradually, they will also share their fear with you.
Survey students: Ask your learners why they are hesitant to use cameras. Once you identify the barriers to camera use, you can collaborate with students to find solutions for the same.
Use Icebreakers/ Online Energisers: Try some activities to encourage camera use. For example: Prompt learners to find five objects of cuboid shape around them, or tell them to find one object around them (without moving from their seat) which helps in learning, like pen, paper, book, etc. Asking riddles and peer teaching are also playful approaches to building community remotely. 
Encourage virtual backgrounds: Learners may not feel comfortable displaying their living space or home environment to their peers and teacher. I would encourage students to position themselves against a wall or allow them to create an appropriate background where their living space can be hidden.
Allow students to submit pre-recorded video for assignment: If students need to visibly demonstrate a skill, allow them to make a recorded video. You can use Flip grid or YouTube to empower the voice of shy students, to build their comfort for camera. If having the camera on is relevant to our objective to be assessed, then consider including it as a criterion for achieving the goal.
Play games: Pictionary, charades (word guessing game) and stone, paper, scissors are some games which can encourage learners to be on camera during online classes.
Visually vote to show understanding: You can have students' vote with their thumbs up or down on a topic, or poll the class with a fist to five, a simple signaling system that can engage unwilling students and build harmony within the class to encourage participation. 
Ask students to suggest alternatives: Your learners might have ideas about other ways to participate and share their learning visually. Being educators, you can find many of your students sharing their videos on different online platforms. You can motivate them to suggest other ways to share their learning and understanding visually till the time they get comfortable with keeping cameras on during classes. 
Use chat feature: Welcome students using chat feature and encourage them to turn on their camera. Encourage students to use the chat and reactions to communicate and send a private message in the chat to make them feel comfortable and important. Use the "Ask to Start Video" option.
Make it (keeping camera on) optional: Work out when it's best to have camera off during your session. This will definitely make learners comfortable.
Ask before assuming anything: This is a challenging time for everyone. If learners are not showing interest or are inattentive in your class, then ask questions calling their names rather than punishing them for the same.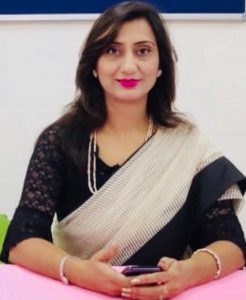 Happy Learning! Happy Teaching!
The article is written by Shalini Chauhan. She is a Mathematics Educator at Indirapuram Public School, Indirapuram, India.
DISCLAIMER: Views expressed above are that of the author and do not reflect the views of the website. The Peeper Times does not assume any responsibility or liability for the same.
Do you feel strongly about something? Have a story to share? Write to us at info@thepeepertimes.com or connect with us on Facebook or Twitter