Scholr and Don't Memorise emerged as the winners at the EdTech investment event: The Final Battle, held in New Delhi recently. Scholr is an AI powered digital learning assistant app for students, while Don't Memorise licenses high quality curriculum aligned video content to any education organisation working with students. Leading investors at the event expressed confidence in these startups and decided to invest in them. The details of the investment, however, were not disclosed. Don't Memorise also won a cash prize of Rs 3 lakh.
The two were selected out of hundreds of startups who had applied for the competition.
Modelled on the lines of Shark Tank (popular American business reality TV series), The Final Battle is described as India's 'first-of-its-kind live EdTech investment event.' The Final Battle followed the Edupreneur Village Challenge, which took place during Oct to Dec 2018. The Challenge was launched by the Edupreneur Village Fund, and received more than 11,000 registrations and 1100+ investment applications. Out of them, 50 startups were shortlisted in the first round. As the next step, 30 out of these 50 were invited to pitch their ideas to the investment board comprising some of the prominent figures in the education industry. Thereafter, the top ten finalists were selected who pitched for investment in front of 50+ investors, as well as 350+ EdTech industry participants and startup enthusiasts on the final day of the battle. Edupreneur Village Fund extended support to all these startups, at every step, helping them create an extensive business report.
The other winners at the event were:
Mintbook – It curates online content from thousands of academic publishers and makes them available to students on a pay per use basis. Edupreneur Village Fund announced partnership with Mintbook. The company also won a cash prize of Rs 50,000.
One0x – Blockchain technology to foster seamless exchange of learning data records of learners across education institutions. It was awarded a cash prize of Rs 2 lakh besides partnership opportunity with Edupreneur Village Fund.
Clap Global – It won a cash prize of Rs 1 lakh. It's a platform that enables a unique exchange of cultures by helping international travelers visit local classrooms and engage in meaningful and often surprising conversations with students.
Memory Trix – It won Rs 25,000. The company is helping students memorise concepts through crowd-sourced, engaging, humorous, locally relevant content built around memorisation techniques like mind maps.
Besides the above, The Final Battle received 48 investment interests from the investors to invest in these ten finalist startups. The investment discussions shall take place over the next few weeks.
Encouraged by the response, the organisers also announced that they would soon launch Edupreneur Village Challenge 2.0 soon. "Seeing superlative response, Edupreneur Village will hold even bigger 'The Final Battle' next year, giving opportunity to various education startups to raise capital from education focused investors," said Nitin Bhalla, Head of Edupreneur Village Fund.
Launch of Auro Scholar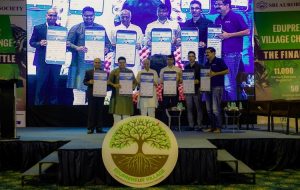 The event also witnessed the launch of Sri Aurobindo Society's new initiative, Auro Scholar, a 'radical first-of-its-kind' scholarship platform, with the objective to give micro-scholarships to produce learning outcomes of millions. The programme aims to create a revolutionary ripple effect among current students across the country. For this project, the Society has partnered with PayZapp (mobile payment solution by HDFC bank) to disburse scholarships, Cambridge University Press as the question bank partner, and Scholr.
Sri Aurobindo Society initiated the early stage Venture Capital Fund – Edupreneur Village, with a focus on Education-Technology. Edupreneur Village not only invests in early stage EdTech startups across India, but also extends complete support to startups in acquiring Series-A funding through counseling, fund raising, mentorship and scaling-up support, through the Society's massive education ecosystem network.
Do you feel strongly about something? Have a story to share? Write to us at info@thepeepertimes.com or connect with us on Facebook  or Twitter