Teaching Today Is All About Building Relationships
Written by Anju Gupta, Headmistress, Ahlcon International School
It's not easy being a student today when there is pressure of professional success along with a necessity of gaining an ability to deal with volatile, uncertain, complex and ambiguous (VUCA) environment. But all the more difficult is to be a teacher in VUCA world. Whether its students or teachers, 21st century is all about equipping ourselves with skills which will enable us to deal with the present complicated world and complex relationships. With both parents busy in their professional pursuits, and fragmentation of joint families, the responsibility of converting 21st century learners into gems of future lies largely with the teacher community.
A big challenge for teachers – how do we prepare ourselves to be 21st century teachers for millennials today? A generation characterised by dwindling attention span due to many distractions and their rising tech-dependence.
The solution lies in having a unique connect between teachers and their students. The teachers need to make an effort of meeting learners where they are most comfortable. Let's explore this 'connect'.
"Teachers who put relationships first don't just have students for one year. They have students who view them as their teacher for life."  

                                                                                                          – Justin Tarte
Teacher as an Adaptive Mentor
This is the mantra of the day. "One size fits all" is no longer workable. Each child in a class has different levels of competence. A 21st century teacher must be adaptive to meet each child at his/her pace of intelligence and take the child forward from there. Teachers need to understand the paradigm shift in education today. Students are able to get vast information with a click of the button. So the role of a teacher is no more of "knowledge provider." The topics, they teach, should be dealt with contextually relevant connect instead of depending heavily on textbooks. Flipped classroom, peer teaching, team teaching and experiential teaching can spin the magic.
READ ALSO: Five Innovative Teaching Techniques Used in India
A Digital Enabler Mentor
This will help in establishing a deeper and longtime bond with students. If a teachers shuns technology, it is likely to result in alienation of students. A teacher should have the power to channelise screen addiction of learners into addiction for learning. Facilitators must excel in leveraging the wonders of technological world to kindle a curiosity among children to go beyond classroom learning. Students should be encouraged to join global communities on social media which will expose them to varied cultures, languages and economies.
An Enabler of Experiences
'Experiential learning' is a buzzword nowadays. A visit to a blind school will have a greater impact on students than writing a paragraph on the life of visually disabled people. Young minds need stimulating experiences to retain the concepts better and for longer duration of time. Mentors need to plan lessons where their senses are engaged, and they are presented with challenging situations. Activity based learning and hands-on experiences are key skills which modern Gurus must demonstrate. Excursions and field trips should not only entail fun element but also be made learning experience for students where the knowledge gained should be analysed and interpreted to create new concepts. Instead of asking them what they want to become when they grow up, let them meet people of different professions and talk to them about pros and cons of their professional experience, the reasons of making particular career choices and the factors which affected their decision. This will help them develop a better understanding of various career options.
A visit to a blind school will have a greater impact on students than writing a paragraph on the life of visually disabled people. Young minds need stimulating experiences to retain the concepts better and for longer duration of time
A Lifelong Learner
He connects better with learners. Students today learn more from internet than text books which can leave a teacher stumped by the ingenuous queries of students. Hence, teachers not only have to learn along with his/her learners but also learn from them. A topic can be introduced and researched both by teachers and students. Thereafter, project can be prepared by sharing notes and holding classroom discussions. This will help students learn to differentiate between authentic and misinformation given on internet.
A Facilitator of Pride
This is the new role of a teacher. With collaborative learning and sharing platforms available in plenty, it's easy for students to share their work on local and global platforms. When 'practice assignments' travel from teachers' desk to students' own creation, students take pride in their learning. Instead of asking them to write an essay, teacher should ask them to write blogs, add pictures, polls or opinions in their work. How do plants produce food? Instead of asking of these kind of questions and then advising them to learn from book, a teacher should tell them to make a video of the same. This way, the assignment upon completion will not end up in a waste-paper bin but instead can be shared online for others to learn, thereby giving children a sense of pride.
Conclusion
21st century educator is an aware global mentor who provides safe and encouraging space to young learners to ask questions and help them make use of right channels to look for answers. A modern-day teacher is all about preparing students to learn and interpret the readily available information effectively to best suit the generation's interest as a whole.
"No significant learning occurs without a significant relationship".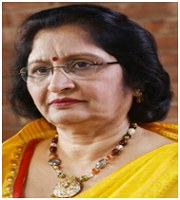 OTHER ARTICLES BY ANJU GUPTA:
1. This is how you can keep a check on your kid's online behaviour
2. Let's say no to heavy school bags
3. Social-Emotional Education in Schools – A step forward
DISCLAIMER: Views expressed above are that of the author and do not reflect the views of the website. The Peeper Times does not assume any responsibility or liability for the same.

Do you feel strongly about something? Have a story to share? Write to us at info@thepeepertimes.com or connect with us on Facebook or Twitter