"We want to reach out to each and every school in India to spread the culture of inspiration"
From past 18 years, Narendra Goidani, founder, Life School and Keep Moving Movement, has been conducting inspirational training programmes for people from all walks of life. His main focus is training people especially youth in 'Empowered Living.' In an interview with The Peeper Times, he tells us why it is important to raise strong, confident and visionary children.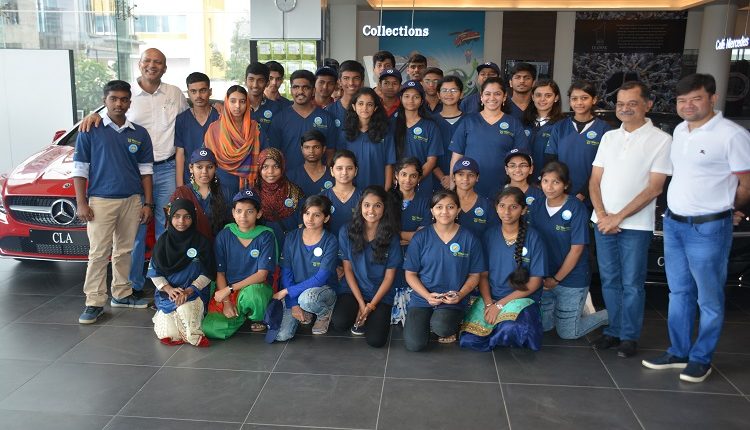 1. Tell us about your organisation, Life School. What are its main activities?
Life School is about sharing experiences, learning and co-creating methods to inspire a fulfilling life. I started this organisation to help people find their passion, and work with them to sustain it. India has produced many inspirational personalities, and it has a potential to produce millions more. This is what Life School aspires to create – an environment of inspiration. Life School is not about theory, instructions and idealistic ideas, it is all about discovery, experiences, actualising and maximising potentials. We inspire people to pursue their dreams and explore their potentials, through our signature training programmes – Let's Explore, and Beri.
Through Life School Foundation, we run our CSR activities in the field of education under the banner of Keep Moving Movement (KMM).
2. Can you explain in detail about Keep Moving Movement? What does the programme involve?
KMM is an initiative that travels around India via its volunteers who hold workshops for teachers across Tier I, II, and rural cities and demonstrate how they can make changes to their pedagogy for larger impact. Schools join the movement by registering students and teachers for a seven module training usually held in July. One module is conducted once in a fortnight.
KMM is a leadership development platform beneficial for each stakeholder of the ecosystem, that is, students, teachers, volunteers and parents.
3. What was the idea behind launching KMM?
Students are the creators of our country's (world's) future. It is the responsibility of teachers and adults to create an opportunity which enriches and nourishes them like never before. For a secure future, the youth must be ready, capable, visionary and filled with self-belief. This can only be accomplished under the guidance and experience of committed, caring and successful people. The presence of these kinds of role models fuels inspiration and helps them to touch heights of greatness and self-discovery. At Life School Foundation, a non-profit organisation, we believe that until inspiration touches us, life is incomplete. Keeping the same in mind, in 2010, we started a programme by the name, 'Keep Moving Movement' which is dedicated to building a culture of inspiration amongst the teaching and student community.
4. What do you hope to achieve from this programme?
We hope to create a secure world full of confident and visionary youth. Also, we wish to build a community of teachers well-equipped with techniques to handle the new generation in more efficient way.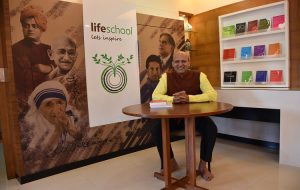 5. Why the name 'Keep Moving Movement'?
The name was coined because of a very simple observation. Nowadays , people tend to give up too fast. Some people believe that they don't have enough resources, and some don't want to leave their comfort zone. They are so scared of failure that they don't grab the opportunities life blesses them with. In order to find a solution to these problems/queries, we came up with the solution of 'Keep on moving in your life', and hence the name.
6. How can schools register for the programme? Is it limited to schools only?
Schools can approach us through our website/phone numbers. We meet the school authorities; there is a simple registration process. The programme is open for the age group of 14 to 18.
We also have some junior colleges, skill development centers in KMM.
7. Can students register for it separately or is it only school-specific?
KMM sessions are conducted for students in registered schools. Therefore, currently, it is predominantly school-specific. There is no registration process for individual students.
Nonetheless, students from non registered schools have access to our sessions uploaded on our KMM Youtube channel.
We are in the process of building a KMM digital community for aspiring students. It would enable them to be a part of the movement. Students will be able to learn from the KMM sessions as well as volunteer for the movement.
8. What has been the feedback so far? How many schools/students have benefitted from it?
Every year, we get enquiries from new schools. Students get to learn the very essential life skills, value education through this programme. Students send us their feedback through sms, mails or videos, and they are extremely satisfied with KMM.
KMM 2018 has impacted 25,000 students through sessions conducted in six languages – Gujarati, Kannada, Telugu, English, Hindi and Marathi. Total sessions conducted this year are 2,030. While 1,618 sessions were conducted in Pune, 412 sessions were conducted at other cities. Total schools covered are likely to be 150 across India by the end of this year.
9. What next?
World is talking about Social Emotional Learning (SEL), but through KMM, we have been doing that from several years, impacting thousands of lives. We wish to spread this culture of movement across the globe, and build a community of competent, self-motivated and empathetic youth. KMM will be conducted in various languages, through various platforms impacting millions of people. The 5-year goal is to reach one million people every year – one lakh through classrooms and nine lakh with the help of technology.
Do you feel strongly about something? Have a story to share? Write to us at info@thepeepertimes.com or connect with us on Facebook  or Twitter