HarperCollins Children's Books brings out a list of books for readers across age-groups thrice a year. The Festival List is the second list of books for 2019.
1.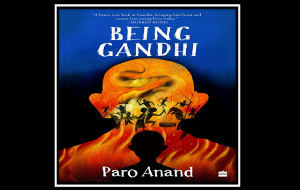 By Paro Anand
The list of books opened with rave reviews for Being Gandhi by award-winning author Paro Anand to mark the 150th birth anniversary of the father of our nation. The book explores not Gandhi the man or his life as a leader but really the Gandhian way that must stay relevant for us. Paro Anand says, 'In Being Gandhi, I have tried to look beyond the man, beyond the historical events of that time instead, place Gandhian principles in the context of today's divisive world. In asking the question, "Is Gandhi still relevant for young people today?" I found unexpected answers.'
2. KAYA'S JOURNEY
By Mila Kahlon
Bulgaria-born journalist Mila Kahlon tells the story of the 100-year-old Koi fish that thought big in the brilliantly illustrated Kaya's Journey which will encourage you to follow your dreams, no matter how big. For a tiny koi fish in a little pond, it seemed like an impossible feat. Yet her courageous journey has become a thing of legend in many countries and cultures. This story, inspired by a real fish, real events, folk tales and beliefs.
3. THE GOOD INDIAN CHILD'S GUIDE: TO PLAYING CRICKET
By Natasha Sharma
Here's the perfect guide book for children for one of India's most popular games, cricket! The Good Indian Child's Guide series takes things that are intrinsic to India and presents a tongue-in-cheek explorations of the subjects. What makes you a 'good' Indian child (or adult) while playing cricket? Dive into this book for Natasha Sharma's crazy humour! Playing cricket will change forever!
4. MINI'S MONEY
By Nandini Nayar
The first in the new Mini series of chapter books is about a five-year-old girl who is gifted some money on Dussehra. The money goes where Mini goes and Mini goes where the money goes as everyone wonders what Mini will spend it on. After some exciting adventures following her money, Mini knows how she is going to spend it.
5. THE GITA AND YOU
By Sheila Dhir
This book presents eight kathas that capture the essence of the conversation that took place between Lord Krishna and Arjuna during the Kurukshetra War. The message of each katha is simplified and conveyed through stories that children can relate to and understand. The stories will help children comprehend the attitude of the people they meet in their everyday life, their own response to them and to life in general. The stories are interspersed with activities to reinforce the message of the Gita.
6. FROM THE HOUSE OF HARPER: MAHABHARATA STORIES
By Deepa Agarwal
Selected stories for children from the Mahabharata ranging from how the Mahabharata was written to the Mritasanjivani story, the birth of Devavrata, the palace of Lac, Draupadi's Swayamvara, the passing of Bhishma and many other equally enthralling stories from one of the greatest epics of all time. This is the second book in the recently launched From the House of Harper series which will include collections of classic Indian tales. The first book in the series was a collection of the Panchatantra stories, A Basketful of Animal Tales.
7. BUDGIE, BRIDGE AND BIG DJINN
By Ranjit Lal
They form a formidable team: 14-year-old Budgie, outspoken to a fault; Bridge, a steady teenager with a rocky past; and Big Djinn, the ferocious Tibetan Mastiff-German Shepherd mixed breed. Together they set about getting their own back on a gang of mean-spirited bird-watching bullies. That's the easy part. When faced with a terrifying, life-threatening situation, that endangers the very existence of their idyllic mountain home, they have to dig deep to find the courage and tenacity to deal with it … and face an enemy who will stop at nothing to get his own way. A thrilling adventure story that also brings forth the perils of environmental degradation.
8. INSIDE INDIA: FASCINATING FOOD
By FunOKPlease
Join Indy and Dia on a mouth-watering, tummy-rumbling and fun tour of India's culinary landscape. This activity book will take you through India's various food delights through engaging activities. Discover delicacies from all over India, learn some food history and try out easy recipes. Your taste buds are in for a treat!
This is the third book in the series.
9.

And finally, four new puzzle books from Mensa, the world's foremost brainpower brand, each filled with mind-twisting challenges, tricky logic problems and brain-busting puzzles that will not only boost your brainpower but also keep you entertained.
Do you feel strongly about something? Have a story to share? Write to us at info@thepeepertimes.com or connect with us on Facebook or Twitter