5 Ways How Parents Can Help Kids Overcome Maths Phobia
In this article, Maths teacher Shalini Chauhan shares some practical tips with parents and students to overcome the most common phobia among students - studying Maths.
I always ask this question to myself: "Why do people not like Mathematics?"
I see a lot of children struggle with learning mathematics and usually feel bored, nervous or are unable to grasp basic concepts of the subject. The anxiety or phobia begins at a young age, and creates lasting feelings of frustration with the subject.
Why does Maths phobia exist?
The main reason, I think, is a lack of understanding of the concepts.
But there're other factors also like dislike or fear for the subject among parents. This fear is passed on to their children by them.
How can parents help their children overcome Maths phobia?
Imagine a situation:
A kid comes home after school, throws his/her bag on the floor and declares to parents, "I'm not good at Maths".
As a parent, there is a possibility that you must have witnessed this situation at your home. Probably, you have heard a friend, a neighbour or a family member utter the same self-defeating statement.
I'm sure you want to change this self-defeating talk to positive self-talk. It's a big task to remove maths phobia from the minds of young children. So, here're are some simple ways through which you can do it:
Tips for parents:
Maths is a basic skill, important to survive. But you can't convince your children by imposing this statement on them.

Motivate your children so that they develop a positive attitude towards maths. Start by involving them in planning holidays, paying bills, shopping, preparing monthly budgets or planning savings for future. As a parent, you need to show them the practical uses of the subject. Don't force them to sit with books. Make maths learning an experience for them. Mathematical skills are necessary, no matter what career we choose – from running a bakery to selling real estate, we use Maths every day.
Sometimes, parents unknowingly pass on the fear of the subject to their child. Stop sharing your Maths phobia with your kid. Even if you don't like Maths, don't talk negatively about it. When you develop a positive attitude towards this subject, your kids will follow the same. Try to put a smile on your face when doing maths with your kid. Even a small step of positivity can go a long way.
There is also a widely-held perception that maths requires an extraordinary level of intelligence. This is not true. The reason for maths phobia varies from child to child. Parents need to be patient with their child's learning abilities. While revising at home, you can break down mathematical concepts into small understandable units so that your child can revise and understand them easily.
Parent should also make sure they are accessible and approachable when their child faces a challenge. Make your child understand that mistakes are bound to happen. Encourage him/ her to look at his/ her mistakes as learning opportunities. Mistakes are proof that you are trying.
Let your child work in short sessions with regular breaks. Encourage her/ him to get up and move around while studying.
Tips for students:
Make studying Maths a priority.
Do problems neatly and completely.
Do mental calculations. Avoid using calculator.
Practice daily.
Do positive self-talk. Example: I can solve problems without giving up; I can think about numbers in many ways; I can solve problems by looking for rules and patterns, etc.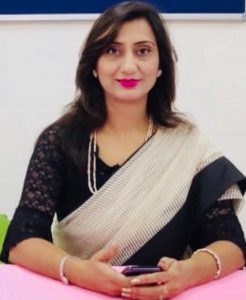 (From our Archives)
The article is written by Shalini Chauhan. She is a Mathematics Educator at Indirapuram Public School, Indirapuram, India.
DISCLAIMER: Views expressed above are that of the author and do not reflect the views of the website. The Peeper Times does not assume any responsibility or liability for the same.
Do you feel strongly about something? Have a story to share? Write to us at info@thepeepertimes.com or connect with us on Facebook or Twitter