Changing leadership design during COVID-19
School leadership is a complicated and demanding role. Navigating change during tough times brings added challenges; and increasingly difficult decisions are to be taken. During Covid-19 pandemic, school heads who usually take a collaborative and suggestive approach to decision making had to change their modus operandi overnight to that of quick judgments with little or no staff consultation, and had to communicate change at a very short notice.
How can leaders prepare and respond to the unprecedented challenge currently being faced by them when schools are forced to switch over to "remote working" or "in-school" working frequently?
Impact on school leaders' work
The work of school leaders has amplified during this pandemic crisis. They have never worked as hard as they have recently nor felt the sense of urgency and responsibility as keenly as now. They were already reaching critical points of wellbeing, stress and effects of teaching by the end of last year. Add to that the year 2021-22 we've had so far, and the real cause for concern is the stress and pressure being faced by our school leaders and everyone involved in education.
Balancing competing demands
So, how can a crisis like covid-19 impact a school leader's usual practice?
Difficult decisions are to be made quickly, with the best information  available at present. The usual idea of long periods of consultation isn't possible when the government might give a couple of days notice to schools to switch to remote or face-to-face learning.
Leaders are doing their very best to come up to the expectations of their students and staff; and meeting policy and political directives. They are trying to find out the solution that works best for everyone. What is needed from everyone is recognising that these pressures are unique and of high-stakes. Clear and open communication, great deal of support, trust and understanding from teachers and parents is the need of the hour.
Regular and honest communication
Teachers and parents need to understand that online practice was implemented quickly and without consultation because it had to be. However, school leaders sought feedback and made necessary adjustments thereafter. In fact, their relationship with majority of parents and staff members was strengthened during this period, as these leaders were the main source of information, especially in March 2020 when situation changed rapidly.
In connecting with families during this time, leaders made regular and honest communication a priority and gave constant reassurance and support to those who needed it, especially to vulnerable group of students and parents. They kept a positive, optimistic and resilient tone in their interactions.
School leaders have put in extra effort and attention for support and administrative staff as well – scheduling regular meetings, individual check-ins, organising social-help camps to maintain connections, listening and responding to their personal challenges and many more. They made efforts to share all the vulnerabilities with teachers and parents which developed a sense of "We are in this together."
Building a toolkit of strategies
As politicians and health experts have pointed out, there is no playbook for covid-19 and it's difficult to say what will happen next. 'How do we lead when we can't predict what's going to happen next?' – this is the main question in the minds of all captains. Uncertainty requires leaders to adapt quickly to a rapidly changing situation and switch over to different skills and different types of leadership.
All this comes with experience as the trail-blazers are constantly learning. The most effective thing educational leaders can do is to  learn from each school/section they lead, build up their professional knowledge and skills, and grow their support networks to be able to build up their toolbox of strategies so that they can make the best decision at any given time.
'Different leadership styles such as transformational (change focused), instructional/ pedagogical (teaching and learning focused) and transformative (equity and social justice focused) and many more like adaptive, authentic, coaching, distributive have been identified in school leaders across the world. Rather than fixed styles, leaders should be using a range of practices and approaches that are most suitable to their context with a focus on positive and productive relationships in their school communities.
Health and well-being – A major challenge
Right now, one of the biggest challenges before schools is the health and wellbeing of staff, students and the community. Remembering that this is a health crisis, leaders are focusing on keeping everyone safe and then ensuring that students and teachers are supported to enable them to find ways to move forward productively into a future that is still uncertain and aggressive. They are organizing regular online "Wellness sessions" with experts and online "Gupshup sessions" with staff members which will help in strengthening socio-emotional quotient of the staff.
All said and done, leaders need to find out time for themselves –walking while talking on the phone for physical activity, blocking out some hours on a sunday afternoon for a family activity, keeping email notifications on silent mode at night and tweaking the amount of time spent in direct contact with students and teachers are a few steps to enable them to do other important household chores. But there is a sense of 'We just have to get through this,' so they are working hard and hoping that they will be able to catch-up on self-care once things calm down.'
Conclusion
There seems to be an increased recognition of the hardwork that schools do and the way they've navigated these challenging times. They have been able to derive many positives – from developing new home learning technology and innovative ways of teaching, to a shared sense of achievement and sharper focus on what's really important. And, of course, the most important – strengthening of relationships.
This occurred by building deeper connections between leaders and families of students and teachers, strengthening of relationships with staff members who were supporting each other. Also, several principals reported a strengthening of relationships with their peers across other local schools as they shared resources and ideas.
At the end I would say, "When 'I' is replaced by 'We,' even ;Illness' becomes 'Wellness.' And this is exactly what is happening in the educational sector in these pandemic times.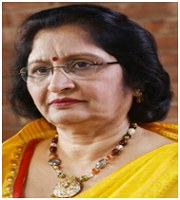 Written by:
ANJU GUPTA (Eduleader & Edupreneur)
Want to read more such though-provoking stories by our educationists? Click here
DISCLAIMER: Views expressed above are that of the author and do not reflect the views of the website. The Peeper Times does not assume any responsibility or liability for the same.
Do you feel strongly about something? Have a story to share? Write to us at info@thepeepertimes.com or connect with us on Facebook or Twitter