Teacher With a Mission
This week, we talk to Shipra Srivastava, Assistant Headmistress (Co Scholastic), Primary Section, Ahlcon International School (Delhi)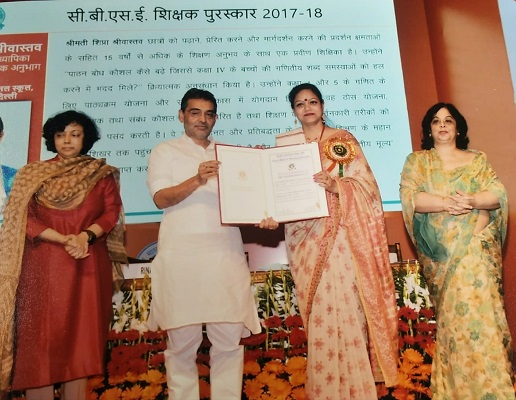 Shipra Srivastava has won several awards in the field of education. Two years ago, she won the prestigious CBSE Teachers Award. She teaches Maths by introducing innovative methods of teaching so that her students do not fear the subject. That's also her mission. Read on to know more about her:
---
Life post-award
Life is still the same. Earlier too, I used to teach with passion, and now also, I do the same.
But yes, respect for me in people's eyes has definitely changed. I feel more responsible now. When I know that people (my colleagues, parents, everyone) are looking at me as an awardee, I feel more responsible about whatever I do. That's the only thing that has changed.
 What prompted you to become a teacher?
I am a teacher by choice. I always wanted to be a teacher. I was inspired by my own teacher; and Maths was my favourite subject.
As a Maths teacher, my constant endeavour is to make sure that Maths becomes a favourite subject of my students, especially, my girl students. That's because there's a myth that boys like Maths and girls don't. I want to break that myth.
As a teacher, what's your biggest challenge?
Children tend to develop Maths phobia. The challenge before me is to teach Maths in such a manner that it becomes a fun subject for my students. I play a lot of activities with them so that they don't fear Maths, instead love it. This is also my mission.
Children tend to develop Maths phobia. The challenge before me is to teach Maths in such a manner that it becomes a fun subject for my students
How has teaching evolved during covid-19?
When we started online classes, we faced a lot of problems. We conducted training sessions for our teachers. By now, things have settled down and everyone is comfortable with technology. But the challenge today is to keep our students interested and engaged in online classes. It's an altogether different case when we are teaching in schools. There, we can keep our students busy in a number of interesting ways. But in online classes, retaining a child's attention is challenging. If we teach students like a monologue, they will not like it. We cannot depend only on activities. We are making videos (of different chapters), exploring tech, looking at user-friendly apps to teach our children in innovative and interesting ways so that they feel motivated and engaged. How to grab our children's attention – this is our main focus while planning lessons for our students.
Satisfying Moment 
When schools were closed due to the pandemic, many EWS students in our school moved to their native places. After schools went online, we realised that we would have to find a new way to reach them. They either didn't have the computer or internet connectivity was an issue. There was also those who lacked technical know-how. Bringing those children in the mainstream at that time was a challenge for us. We reached out to these children through WhatsApp (wherever possible). We started sending them work on WhatsApp. We also called these children regularly and to explain them the lessons and solve their problems.
We also started a drive in our school called DDD (Device Donation Drive) for those students who had either no devices or just one phone (which was also unavailable if parents were out for work). In order to help these children, teachers in our school decided to donate their old phones in working condition. The collected phones were handed over to the parents by the school authorities.
READ ALSO: "Teachers are the unsung corona warriors"
How are you keeping your students motivated in these pandemic times?
Only studies will not keep our students motivated. Hence, we are conducting all those activities that we used to do in our regular school – special assemblies, festival celebration, appreciation day, holding intra- and inter-school competitions and so on. Plus, we are regularly organising classes of yoga, music, dance, etc. The idea behind all this is to not make our students feel overburdened (with studies). All these activities are being conducted online along with the studies.
Your journey as a teacher
My journey as a teacher has been very eventful. When I started my career, I started as a pre-primary teacher. Today, I teach primary classes. Over the years, I explored myself, learnt many new things. For example, I didn't know I am a very good painter. I am also a good TT/ basketball player.
What next?
As far as my teaching is concerned, I am going to continue with the same. I love kids. I will continue teaching primary kids only. I have no plans to move to middle or senior section. But yes, now that I have received my CBSE Teachers Award, my next target is the National Award.
READ ABOUT OTHER AMAZING TEACHERS HERE
Do you feel strongly about something? Have a story to share? Write to us at info@thepeepertimes.com or connect with us on Facebook or Twitter